TR17302 S. Clinton St. Rehabilitation from Boston St. to Keith Ave

About this Bid:


Looking for local DBE's to provide quotes for the following:
CLEARING & GRUBBING
STRIPING
MAINTENANCE OF TRAFFIC
CONSTRUCTION STAKEOUT
CPM PROJECT SCHEDULE
EXCAVATION
CONCRETE WORK(SIDEWALK,ADA RAMPS, CURB AND GUTTER, ALLEYWAYS, ROAD PATCHES)
TREE FELLING
Below you will find a link to the contract documents
As of right now, this project bids on March 4, 2020. We are asking that we receive all quotes prior to COB March 2, 2020.
Special Instructions:
N/A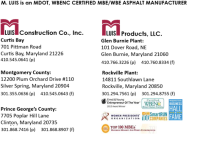 Bid Start Date: 03/04/2020
Organizer Name: Irvin Lewis